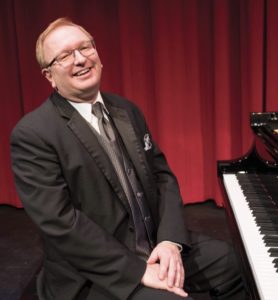 "When Cole sits down at the piano, you would swear Gershwin himself was at work…Cole stands as the best Gershwin pianist in America today." – The Chicago Tribune
Pianist Kevin Cole is widely regarded as the foremost interpreter of George Gershwin's compositions. Cole's performances have garnered accolades from America's most prominent music critics and multiple return engagements with orchestras and concert series across the country. He is the first pianist to play all four of Gershwin's works for piano and orchestra in one concert (Albany Symphony). Howard Reich of the Chicago Tribune declared: "When Cole sits down at the piano, you would swear Gershwin himself was at work…Cole stands as the best Gershwin pianist in America today." From the Hollywood Bowl to the BBC Concert Orchestra, Cole's jazz-classical artistry has been presented and lauded at the highest levels.
A brilliant music director and arranger, Cole has crafted dazzling orchestral and concert programs that showcase the genius of American composers Marvin Hamlisch, Cole Porter, and George Gershwin. BLUE RHAPSODY, a program for symphonies with Cole as soloist for Rhapsody in Blue and Concerto in F in one performance, and COLE PLAYS GERSHWIN, a solo piano show for concert and festival series that includes Gershwin's own arrangement of Rhapsody in Blue and Cole's arrangements from the Gershwin songbook, are booking now in celebration of 100 years of Rhapsody in Blue (1924).
Cole's versatility is seemingly endless. He has collaborated with Marvin Hamlisch, opened for Doc Severinsen and the Tonight Show Band, shared a concert evening with Broadway musical legend Barbara Cook, toured with Grammy-winning soprano Sylvia McNair, performed at the invitation of the prestigious Irving S. Gilmore International Keyboard Festival, and served as Artistic Director for Ravinia Festival's Steans Institute Musical Theatre Initiative. His collaborations with other creatives led to the 1995 Gramophone Album of the Year with soprano Dawn Upshaw (Oh, Kay! on Elektra/Nonesuch) and the smash hit revival of Babes in Arms with Broadway choreographer Randy Skinner (42nd Street) for Goodspeed Opera House.
Cole's most recent recording is Gershwin's Concerto in F with the National Orchestra Institute Philharmonic under the baton of David Alan Miller for Naxos (2020) and available on all streaming platforms. A first recording of newly restored editions of Rhapsody in Blue, Second Rhapsody, and Cuban Overture with the National Orchestra Institute Philharmonic will be recorded in June 2023 and will release in early 2024 (Naxos).
Cole is a Steinway Artist and a graduate of the Interlochen Arts Academy. His many engagements include the Los Angeles Philharmonic, San Francisco Symphony, Minnesota Orchestra, Boston Philharmonic, Nashville Symphony, Albany Symphony, Cincinnati Pops, Indianapolis Symphony, Pittsburgh Symphony, Edmonton Symphony (Canada), Philharmonia Orchestra (UK), BBC Concert Orchestra (UK), Grant Park Symphony, Chicago Symphony Orchestra, Utah Symphony and more. Among the conductors he has performed with are Stuart Chafetz, Robert Franz, Giancarlo Guerrero, Keitaro Harada, Lawrence Loh, David Alan Miller, Robert Moody, Edwin Outwater, John Morris Russell and Benjamin Zander.
Cole enjoys a history of personal praise from legends Irving Berlin, Harold Arlen, E. Y. Harburg, Hugh Martin, Burton Lane, and Stephen Sondheim as well as members of both the Jerome Kern and George/Ira Gershwin families. Edward Jablonski, author of the Encyclopedia of American Music and renowned Gershwin scholar said, "Kevin is the best Gershwin pianist since Gershwin himself – no one can touch him."
Current May 2023